News
Recently, Michael Theune and Kim Addonizio launched an evolving project called Voltage Poetry where they set out to have readers, writers and critics reflect on the magic of turns in poems. Ms. Mandava selected a Sanskrit poem by Vidyâ, c 659 AD. Have a read, comment, pass it on and consider submitting a poem and your reflections on its turn(s) by clicking above.
POMEGRANATE SHORT STORY COMPETITION 2011

If you know any young budding fiction writers, encourage them to enter the
Pomegranate Short Story Competition 2011 organized by Pomegranate Events and Entertainment based in Pune, India. It's a national-level competition and they're looking to get new authors in print. It's free to enter and I'm one of the lead panelists, along with several other writers. The deadline is September 30, 2011. Click the logo above to enter.


ARTWALLAH 2010: AFTERLIFE AT HIGHWAYS PERFORMANCE SPACE
ARTWALLAH 2010: AFTERLIFE, Arts Festival of the South Asian Disapora, will be happening at Highways Performance Space in Santa Monica June 18, 19 and 20 next week. Ms. Mandava will be collaborating with artist Mark Sylbert for "Before," a piece in which a poem and painting simultaneously unfurl as they explore the intersections of identity in time before and after a student's suicide. This year marks Artwallah's 10th Anniversary. Other artists include Shyamala Moorty, Yatin Parkhani, Sheetal Gandhi, Adnan Hussein, Ghalib Shiraz Dhalla, Shaheen Sheik, Shilpa Agarwal, Colm O Riain, Satnam Ramgotra, Natashia Deon, Achinta S. McDaniel, Cynthia Lee, and Rasika Mathur. Please click on the Artwallah banner above for tickets and more info about the program and the Afterlife After-Party folowing Sunday's show.
READING AT MACHINE PROJECT
On April 12, 2010, Ms. Mandava read at Machine Project in Echo Park as part of the Los Angeles launch of Indivisible, An Anthology of Contemporary South Asian American Poetry, in which her poetry is featured. The other poets who read with her were Amarnath Ravva, Ro Gunetilleke, Vandana Khanna and Pireeni Sundaralingam. FIELD: Robin Sukhadia and Walter Kitundu, provided divine beats between the poetry sets. Indivisible was edited by Ms. Sundaralingam, Neelanjana Banerjee and Summi Kaipa and published by the University of Arkansas Press in April 2010. The first anthology of its kind, Indivisible brings together American poets who trace their roots to Bangladesh, India, Nepal, Pakistan and Sri Lanka. More info at www.indivisibleanthology.com and at www.uapress.com.

"Rarely does one have the pleasure of seeing so many poets violate the truth that no one can be in two places at once. Indivisible provides hundreds of local poetic delights and deserves a place among the best anthologies of poetry."

--Billy Collins
Former US Poet Laureate





READING ON KPFK RADIO 90.7 FM
On March 6, 2008, Ms. Mandava was featured on Radio Intifada, a weekly review of politics and culture bringing you the voices of the voiceless from Kolkata to Casablanca. Ms. Mandava was interviewed by Sejal Patel and Khanum Shaikh. She also read her poem "Of Starry Silence" and her short story "Thieves". Also featured on the show was Pakistani poet and activist Kishwar Nahid.

Click the South Asian Artists' Collective link below to listen.

Radio Intifada is hosted by Members of SWANA (South and West Asia and North Africa) Collective and airs Thursdays from 3pm to 4pm.




COPPER CURRENT SALON PERFORMANCE
Ms. Mandava along with artist Mark Sylbert, and several other artists, writers, dancers and musicians founded Copper Current, an artist salon and performance series presented by the South Asian Artists' Collective.

The debut of Copper Current was February 28, 2008 at the Mountain Bar in Los Angeles' Chinatown. Ms. Mandava and Mr. Sylbert explored perspectives of consumerism through "Appetite," a piece in which a reading and drawing simultaneously unfold and converge where cultures clash.
Both the live drawing (above) that emerged in Sumi ink on paper and the story about a young woman who works at Happy Bliss Curry Shoppe on Pico Boulevard concluded with the words, "I'll take a dozen."

Copper Current, founded by Adnan Hussein, Bhargavi Mandava, D'Lo, James Brennan, Mark Sylbert, Meena Serendib, Meera Simhan, Shilpa Agarwal and Shyamala Moorty, is intended to foster dialogue and promote collaboration amongst artists and their work reflecting South Asia and its global diaspora.

Please check back over the summer for details about the next salon or visit the Copper Current website (link at left).
Ms. Mandava's short story "Wine Boy" was just published in the Konundrum Engine Literary Review.
Ms. Mandava's essay "To Apu, With Love" was recently published in the second edition of The Meanings of Dress (Fairchild Publications) in the section titled "The Body in Cultural Context." The anthology is being utilized in various university and college programs.
Ms. Mandava was the Curator of Literature for the Artwallah Festival 2006 and was on the team responsible for the Uncharted Storytelling Project.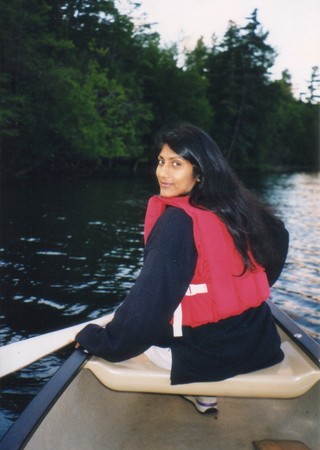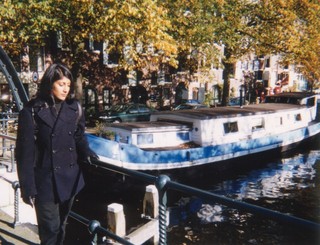 Copyright (C) 1995-2013 Bhargavi C. Mandava

Drawing Copyright (C) 2008 Mark L. Sylbert